The bath remodeling business has its struggles when it comes to marketing. Even if you have not started selling yet, you still need a well-designed website. It will help you persuade clients to invest in your bathtub remodeling project. 
There are a lot of searches every month for bathtub remodeling services. You will need a strong marketing basis to get an audience from those searches. So, how can you promote your clawfoot tubs and get ahead of the competition?
Source: Pexels.com
Let's find out how! 
Effective Marketing Tips for Bathroom Remodeling Business
Create a Brand Identity for Your Remodeling Business
It would be best if you had a consistent brand identity for your clawfoot tubs. This will help you in giving your website a professional appearance. You can visit different stores for clawfoot tubs to get ideas and create something new for your brand. The concept of brand identity asks you to:
Decide a catchy brand name.

Get an attractive logo design for your bathtub business. Contact a certified graphic designer for this.

Try to use high-quality aesthetic photos of clawfoot bathtubs with showers.
Pay Attention to the Audience's Queries Related to Bathroom Remodeling 
Before you start thinking about marketing methods, figure out your target market first. What are your customers' common worries? What are the best ideas in which your clawfoot slipper tubs would help them in remodeling?
Answer these questions clearly and concisely. Your marketing technique will collapse if you don't take care of this properly.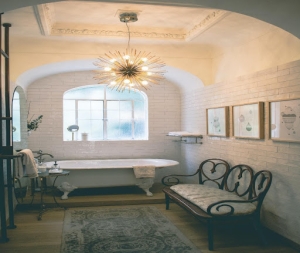 Source: Pexels.com
Post SEO-Optimized Content On Your Business Website 
There is no doubt that keywords, title tags, and heading tags are important. But SEO writing demands more than this. There are over 200 search ranking signals in total. If you want your clawfoot tubs business to appear on Google's first page of results in 2022, focus on the following:
Secure sites

Mobile-friendliness

Page loading time

Markup for Schema

Content quality on a website

Content length on a webpage

Local and social factors

Backlinks of high quality

Optimized images 

Domain age

User experience

Search intent
Add Engaging Videos About Bathroom Remodeling On Social Media 
These days, visual material is gaining a lot of attention. Rather than reading blogs, people choose to watch videos. So you should create video content that illustrates your passion for the business. You don't have to spend a lot of money to make a fantastic video for your company. 
For example, make a video of clawfoot tubs. Download a free app that allows you to create animated or non-animated videos. This will help you promote your fiberglass clawfoot tubs or acrylic clawfoot tubs to a vast audience.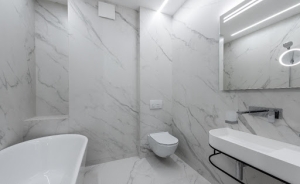 Source: Pexels.com
Make Your Remodeling Website Accessible to Mobile Devices
The majority of people do Google searches on their mobile devices. If your website is not mobile-friendly, it will leave a negative impression on users. This way, you will almost miss out on valuable sales chances. Therefore, always create a simple and easy-to-navigate website. Then, the visitors can locate what they're looking for real quick.
You can optimize your site for mobile devices by using CMS platforms. Having a mobile-optimized website is also quite useful. This is one of the essential components in improving your search engine results.
Create Interesting and Creative Landing Pages
A great landing page is essential for generating referrals, leads, and sales. Its ultimate purpose is to encourage users to check your new collection and designs. It helps you achieve their focus on your website and its text. 
Thus, it should be precise, and the page's buttons should contrast with the background. Plus, you can attract more people by making your bathroom remodeling website more creative. People always compare your quality with your page's look. 
Source: Pexels.com
Strategies to Adapt for Better Results
Make Your Bathroom Remodeling Aesthetic With Pinterest
If you haven't heard about Pinterest for remodelers, you're behind the times. Pinterest is a visual-focused social media platform. This makes it ideal for generating renovation leads.
Planning a remodel can be overwhelming. So, 60% of Pinterest homeowners looking for bathtub remodeling ideas turn to Pinterest for help.
Source: Pexels.com
A stunning 87% of users have purchased products only because of Pinterest. And about 93% of Pinners have used it to plan a future buy.
Connect With People on LinkedIn Interested in Remodeling
LinkedIn is a terrific method to get your name out there and connect with people in your business. To develop a network, you can join groups and participate in conservations. You can even send personalized messages, discuss ideas, and write blogs. 
In LinkedIn groups, people refer clients and tasks to one another. By doing so, you will build genuine relationships with people. They will help your company excel in less time. So developing a network with people who believe in your brand is a plus point.
Focus On Qualified Traffic Needing Your Remodeling Services 
Most companies blog for no apparent reason but to 'publish blogs.' Often, a corporation is focused on blogging to create traffic. But, they overlook the 'qualified' part of the phrase. You won't get any leads if your traffic isn't qualified. 
It's a waste of time to blog for years, get a lot of traffic, and yet get ZERO leads as a result of it all. (Note: It's fine if your blogs have a lower conversion rate than other pages on your site. It is better than having NO conversion rate at all.)
Source: Pexels.com
Email Marketing Should Be Strategic
Email marketing may help you generate more leads and grow your business. It is not exclusive to specific corporations. There are many eye-opening email marketing statistics worth checking out. Compared to social media, direct mail, and other marketing channels, emails got the highest conversion rate.
This marketing is the most useful tool to keep in touch with clients and entice them to return for more. Don't only send emails for its sake; you have to be completely aware of your marketing strategy. 
Make it simple to read and skim your emails.

Make your emails responsive to mobile devices too.

Don't overlook the subject lines.

Do not buy an email list.
Increase Remodeling Leads by Boasting Your Online Reviews
Reviews are becoming an essential difference in the market. Many individuals would rather hear what customers say about your vintage clawfoot bathtub. It is because they trust reviews more than what your company says about your products. 
Source: Pexels.com
Take a look at the following statistics on reviews:
91% of the customers trust internet reviews as much as personal recommendations.

93% of the consumers claim that their purchasing decisions depend upon online reviews.

Eighty-five percent

of the consumers don't trust reviews older than three months.

In the 2022 survey, only 22% of customers read reviews from the previous two weeks.
Conclusion
We have gathered the top tips and facts to improve your marketing skills. These tips will also boost your customer service. Which also plays a significant part in your bathroom remodeling businesses.
So, we hope that you have found the most helpful tips to excel in your bathroom remodeling business. Which one is your favorite tip? Which tip do you want to put in place now? Let us know about it too. 
Note: "All images are from Pexels.com"